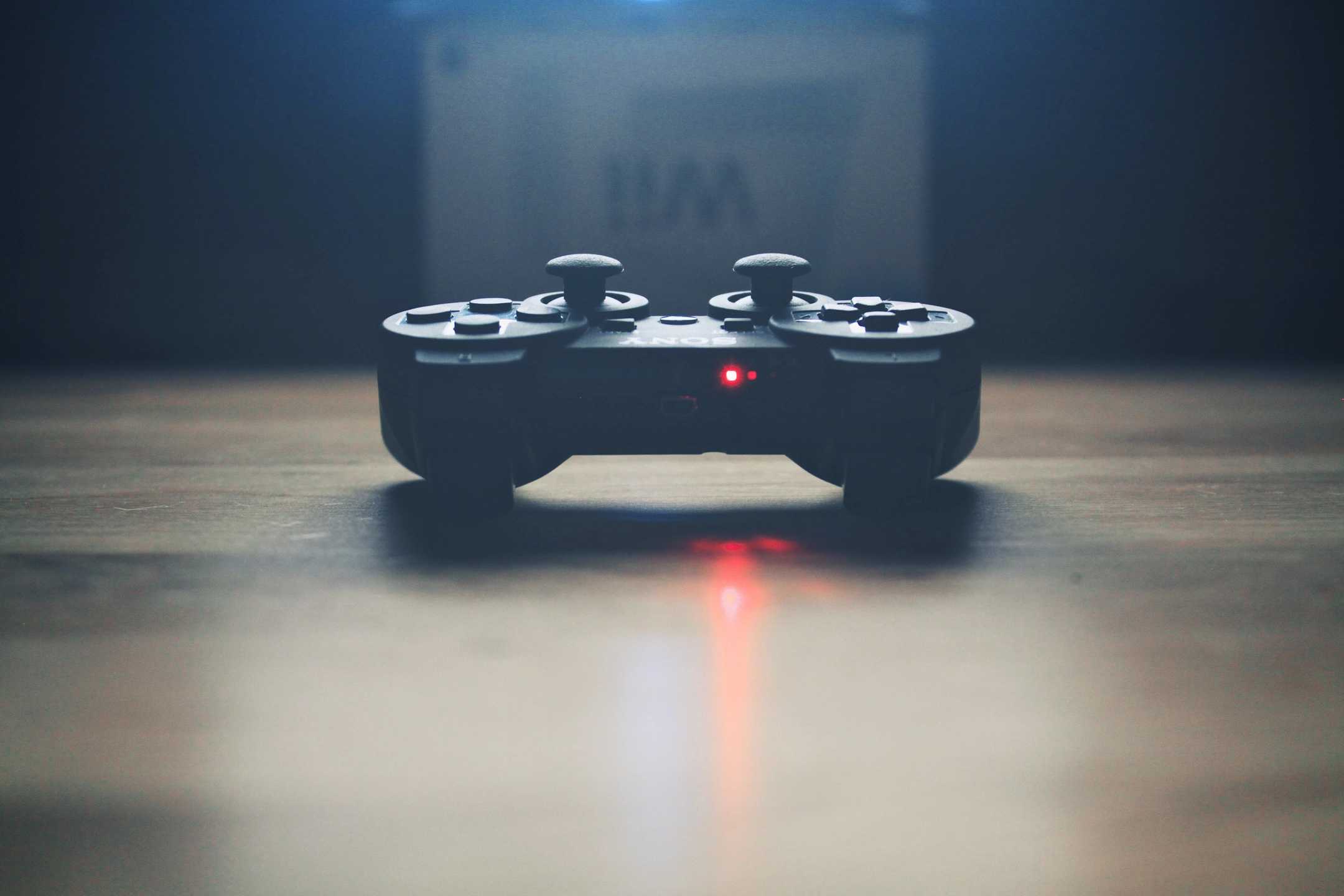 Reflection on my entrepreneurial journey
I haven't written a business update in a while, and due to recent events, I figured now was a good time to write.  I've learned a lot in the process of trying to build a business from scratch and although I haven't made much of a profit yet, I'm learning a lot.  For the past 4 months I've been working on different skill sets:  Writing an E book, C# programming, Game Development on Unity, Video Editing on Adobe Premiere, Pixel Art for game development, 2D Art, SEO, Managing a blog, Content Creation, all the meanwhile keeping up my Japanese language skills, taking care of my family, and developing a new social life after being out of the country for so long.  Due to the low competition in the topic of my book, I've been primarily focusing on the E-book which I'm pleased to say will be finished by late October.  Once that is done I can focus more on my other projects and start cranking things out.  I'll admit this is a slower road compared to a 9-5 job, but I love it.
The latest obstacle in my goal to run my own game development company and break into the industry as a professional is the new algorithm introduced by YouTube.  Many video makers in the YouTube Gaming area have transferred completely to Twitch, an online streaming platform due to google's new algorithm.  This robot has recently been categorizing most gaming videos as "Not Appropriate for Advertisers". The only way to get around this is to either constantly request appeals on your videos or have a representative at YouTube Headquarters who can swing some deals for you.
I will be honest when I say that I haven't been uploading as much due to the news and witnessing first hand all of my friends' channels impacted by this new change.  There have also been reports of a supposed YouTube blacklist which when enough of your videos are flagged, you get added to the list which will prevent anyone from finding your videos in YouTube's search engine.  It is safe to say that this is the dark ages of YouTube Gaming and that although the advertisers are back and supposedly all of the content categories are thriving (daily life, vlogs, and music,) the gaming category is not.
What is also slightly troubling and has recently come to my attention is how some of YouTube's rules no longer apply to major corporations.  A few days ago YouTube Star Casey Neistat made a video announcing a charity to raise money for the victims of the Las Vegas shooting.  Casey has over 7 million YouTube subscribers and is well known in the YouTube community.  He also announced that any ad revenue generated from the video would also go to the fundraiser.  This way if people can't donate, they can at least help by watching the ads on the video.  Shortly after posting this, YouTube's algorithm flagged the video saying it wasn't suitable for advertisers.  Casey brought up the issue on twitter and got the support of several large content creators demanding an answer. YouTube later responded stating: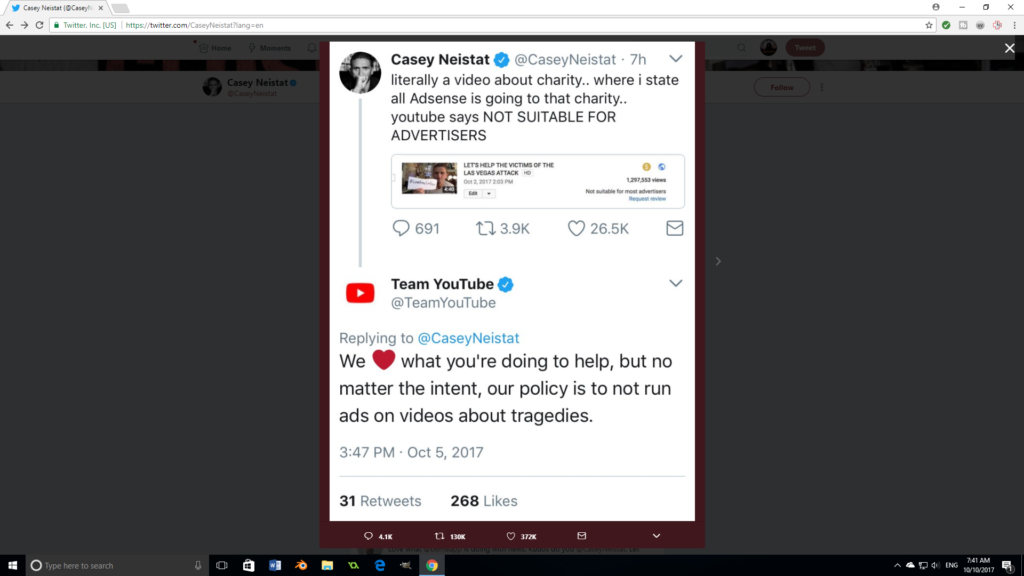 "We love what you're doing to help, but no matter the intent, it is our policy to not run ads on videos about tragedies."
You'd think this would be a fair statement, but if you look at Jimmy Kimmel's YouTube channel which showed the comedian making a similar statement and pledge on the shooting, you'll see a few differences.  Not only was it on YouTube's trending page despite having fewer views than similar videos on the subject, but it also had several ads.  After having this pointed out to me by dozens of content creators and seeing the discussions on YouTube and Twitch, I've also had to do some thinking.
So I've been asking myself these questions:
Is YouTube still worth pursuing even as a hobby?
What kind of content is safe to upload?
I believe that YouTube is definitely still worth continuing because of how uncertain the market is.  The YouTube algorithm has changed so much within the past three months and the business of content creation has shifted with other platforms such as Twitch, Vidme, Beam, and Vimeo.  I don't want to jinx the system, but what's to prevent Twitch from falling into the same problem and shift towards a more television based corporate audience as YouTube is experiencing?  YouTube could perhaps find a way to become the glorious site it once was.  Anything can happen, so I still think people shouldn't throw out their channels.   Long story short, I'm still planning to make YouTube gaming videos.
So what can be uploaded safely and monetized?  With the current A.I. system in place for checking videos, it is clear that anything violent is not going to work.  That's the problem with games.  Most games have some sort of cartoon violence involved which will likely trigger the A.I. system to block the associated video from reaching advertisers.  What YouTube is becoming now is more of a platform for corporations, television stations, music, T.V. personalities, well-known sponsors, and individuals who can represent those brands effectively.  The advertisers are what bring in the money for YouTube so the system is going to prefer videos that involve no form of cursing, violence, or anything with sexual content.  YouTube is similar to a second version of television run by corporations, for corporations, with the help of content creators.
After giving it some thought and seeing my dilemma of needing more time to learn how to make games and somehow bring money into this business, I've decided to take a new approach to YouTube and do things differently.  The way I see it, I'm really proud of my YouTube channel and how far it has come.  I still plan to do YouTube and make videos.  But… I don't think the ad revenue generated from YouTube videos is important anymore or even necessary for what I'm doing.  With all of the changes taking place, it looks like the advertisers do not want to be associated with gaming channels at this time.  So starting today I plan to remove monetization and advertisements from all of my videos.  Next the focus on my YouTube channel is going to be on more edited, high-quality videos that can serve as a portfolio.
I've recently discovered several contract opportunities for video editors that I'm qualified for.  But in order to take on high-level jobs, I need to prove I can make a wide variety of content.  So while my YouTube channel won't be playing by the same rules as those trying to monetize videos and use Google's algorithm, it will still serve a purpose for my business.  While I work on the videos for clients, I'll still be teaching myself game development and other skills.  After I make a couple free games, I'll try to sell a game that I know people will want to buy.
Plans for the business: (Note: I'm still teaching myself game development while I do this)
–       Finish writing my E-book and get it ready for publication.  (October)
–       Finish my first free game: Horror Block Breaker (October)
–     Finish the Friday The 13th guide on my blog / post game reviews.   (November)
–       1 month to build my portfolio:  Game Review, A Let's Play series that's heavily edited from start to finish, 30-second Commercials, an Unboxing, tip videos, highlight reel, learn Adobe After Effects.    (November)
Note:  Even after I finish getting the videos done in November, I'll still be uploading videos after that.  I'm not quitting YouTube.  
–       Start taking on projects that have come my way and build an income while making games.  (December)
–       If I get good enough in game development and people give me good feedback on what I have, I'll start charging for games I make.
–    Downstream after I start bringing in money from projects and getting clients: I'd love to launch a podcast.