Hello fellow gamer. My name is Adam Johnson. I'm a 28-year old gamer, translator, YouTuber, and now blogger with a quest to carve a life in the videogame industry. I belong to a family of four. For years, we were spread all over the world. I was living in Japan, my sister in London, and my parents in Boston. I lived in Japan for three years and studied Japanese for nine. Until the beginning of March I was working as a high school English teacher in Tokyo. I got to teach classes by myself and inspire Japan's youth with games to learn English, but I felt empty. I knew that being a teacher in Japan was not my life goal, and I had always wanted to go into game development.
Back in July of 2016, I made a YouTube channel with the name Mad-Eye Yokai. The channel focused on Friday The 13th: The Game and getting people psyched for its release. My double life as a teacher and YouTuber was fun, but I wanted more. I returned home to the USA on March 8th to assist my family and pursue my goal of trying to break into the videogame industry full-time. I attended PAX East on the 10th, and I haven't looked back since. Within one week I made this blog, Mad-Eye Games and with it a promise to myself…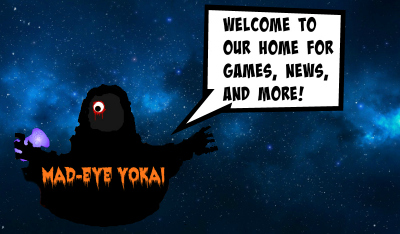 March 2017 For two years, I will devote my entire time to establish an online business in the video game industry as a YouTuber, and game developer. The goal is to either gain enough skills so I can be employed somewhere in the industry (preferably on the creative end) or make a living through this developing business and go indie. Win or lose, I want to have no regrets and at least try to fulfill my dreams.
November 2017 Flashforward to eight months in the journey: I've written an E-book on my experiences in Japan which will be sold on Amazon in January 2018. I've also learned a lot of video editing skills using Adobe Premiere. Although YouTube is no longer a place to make money for gaming videos, I've learned enough to become a freelance video editor for individuals and companies who need help with post production. I'm still working away on designing games and provide updates on the blog and my YouTube channel.
I hope you'll follow along on my journey. Mad-Eye Games will be updated frequently with various content from my personal game development updates, highly edited gameplay videos, reviews, and tips that I hope will benefit you with knowledge, information, and entertainment.
Game on!